Posted by Amy Carbone on Sep 15, 2021 9:00:00 AM
Leadership training is a great way to improve your dentistry management and human resource skills. Incidentally, it's becoming so popular among the dental profession, some dental schools are adding leadership programs or seminars to their standard curriculum, but is it a good idea for every dentist?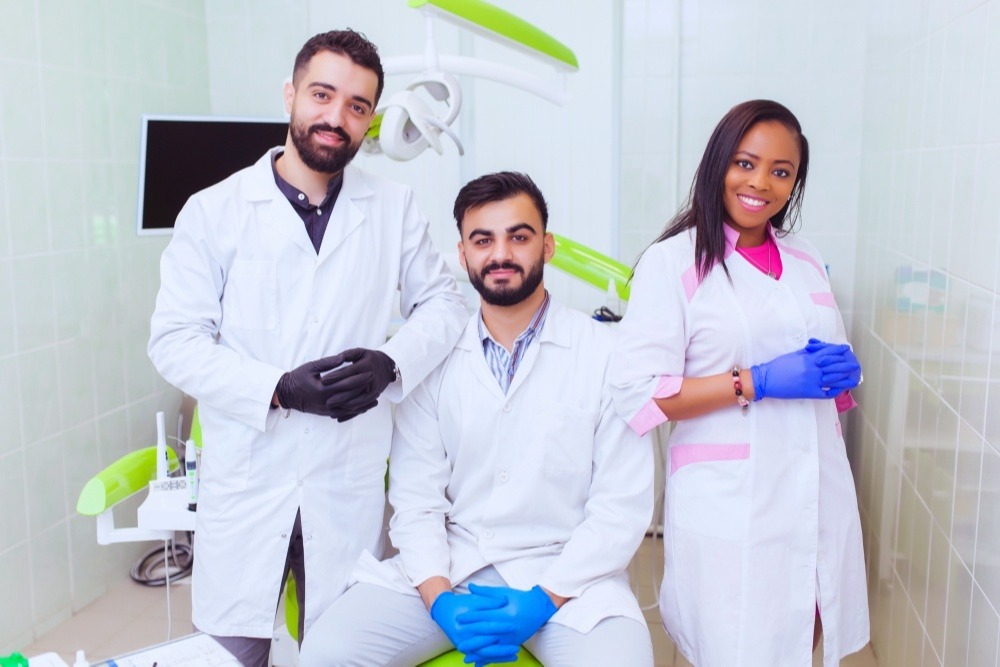 Leadership Training: What's The Big Deal?
Leadership training has become surprisingly popular among dental professionals who want to learn how to initiate a top-notch team of professionals within their practices. By teaching skills such as human resources and management, such courses may help to make a good leader better in many ways. However, it might not be for everyone.
If you are wondering if it's a worthwhile time investment for yourself as a dental professional, this blog post will cover some of the advantages and potential drawbacks of such programs.
Why Dentists Might Seek Leadership Training
As a dentist, you might seek out leadership training to learn helpful management or business techniques that you didn't learn in dental school. These techniques could help to round out your skill set, create a better professional working environment for your practice's personnel and help you to bring out more in those around you.
Regardless of the reasoning, leadership training can have many advantages for dentists. Let's take a look at four big reasons to consider adding this type of training to your resume.
Four Advantages of Leadership Training for Dentists
If you choose to pursue leadership training, you may experience any of the four following benefits.
Continued Education
Knowledge can be its own reward, and leadership training can be a way to keep your mind active while remaining engaged as you continue to build your career as a dentist.
New Skills
Leadership training often partners you with professionals who can share valuable business experiences with you. This in turn may help you manage your team and run your practice more efficiently and professionally.
Idea Generation
Another potential benefit of leadership training is the idea-generation. For example, such training often gives you, as a dentist, the opportunity to bounce ideas off of other business owners, to help you better direct your practice.
Networking
Leadership training often does cost money upfront, but you can use it as a way to network as well. The relationships you form during training can last a lifetime and give you a mentor or professional to lean on when you need advice. The connection you forge with the other professionals may continue to strengthen and benefit you throughout your career.
Three Disadvantages of Leadership Training for Dentists
Unfortunately, there are always some disadvantages to consider when contemplating any endeavor, leadership training is no different. The following are three reasons it might not be a good idea for you:
Cost
Leadership training is a premium service, and its cost often reflects that fact. You may pay a substantial amount of money to begin such training and then to continue it through its duration. There are also additional costs to consider, such as the required resources or software you may have to purchase.
Time
As a dentist and business owner, your time is already stretched thin. This is especially true if you are trying to juggle raising a family with running a successful dentistry practice. Leadership training will demand some of your valuable time. In addition to the training, you have to devote a certain amount of time per day, week, and month to your leadership mentor. Therefore, you have to consider the value of your time as well when contemplating if leadership training is right for you. If life is too busy, this can make leadership training not worth the effort right now.
Next Steps
Leadership training demands that you identify and then pursue the next steps to gain any value from the program. This could mean you have to meet specific leadership initiatives even after the training program ends. In some cases, you might be doing this alone because you won't always have access to your mentor once your course is over. Therefore, even the follow-through of leadership training can be a bit challenging and borderline overwhelming for some. You really have to want to incorporate what you learned to make it worthwhile.
Is Leadership Training Worthwhile for Dentists?
The answer to this question may depend on your goals. What you want to do with your practice, where you want to be in a few years, etc. It also depends on if you have the money, time, and dedication to devote to it and get the most out of the training. If you feel you have what it takes, monetarily and in terms of determination and dedication, then you can consider pursuing it! If you have doubts about any of the aforementioned factors, then perhaps you need to pause a moment and consider if it would benefit you enough personally to merit the amount of dedication it takes.
Regardless of what you choose in terms of leadership training, there are other ways to seek to improve as a leader. For example, our quick, downloadable guide to personal management may give you some tips to seek to improve your leadership skills, without committing to leadership training. Of course, you could access this information and combine it with the knowledge derived in a leadership training program to pursue even more impact.
Only you can determine if leadership training is worthwhile for you and your specific situation. As either a newly practicing dentist or one hoping to get started soon, you know what you can and cannot devote in terms of time, money, and effort towards a leadership training course. However, know that even if you don't take a course on how to be a great leader, you can still make an effort to learn from other business professionals and perpetuate a wonderful place to work.
Learn more about how you can seek to manage a dental team as an effective leader with our free guide. Click the button below to get your free copy.
Treloar & Heisel and Treloar & Heisel Property and Casualty are divisions of Treloar & Heisel, LLC.
Insurance products are offered through Treloar & Heisel, LLC
.Treloar & Heisel, LLC. and its divisions do not offer practice management or leadership training advice. Please consult a professional concerning these topics. This information is intended for general informational purposes only and should not be construed as advice.
20-104