Many students want to shadow a dentist, but not all dentists are comfortable with that. Fortunately, there are ways to find a dentist to shadow.
Why would you want to do that? There are plenty of reasons.
It is far easier to get an understanding of what a dentist's day is like when you're involved in that day, instead of in a classroom setting. When you establish your own practice your routine may be slightly different, but will still be very similar to what works for other dentists.
Dentists who are already actively working in the industry can help you, with advice on shadowing and how to find someone who will be willing to let you do that. Then, you can take that information and use it to work toward an arrangement that helps you and doesn't bother the dentist you're wanting to shadow.
There are all sorts of options for shadowing a dentist, but how you go about it, the kind of questions you have, and the type of dentists you're reaching out to can all have an impact on your rate of success with shadowing.
Here are some of the main things you need to consider before you start contacting dentists.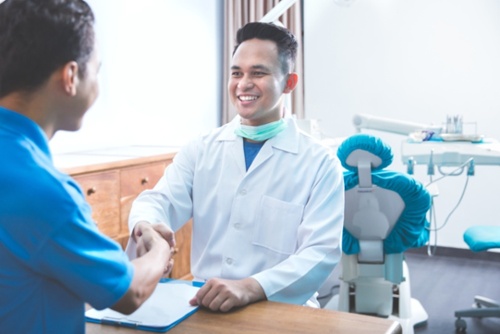 Consider General Dentists vs. Specialists
You may have more of a chance to shadow a general dentist than a specialist. That's because specialists can be very busy, and they may have a different set of hours or other reasons that make shadowing them more difficult. Additionally, they may just not be as receptive to it. Instead of focusing on a specialist right away, reach out to a general dentist for shadowing. If it turns out that you really want to focus on a specialty, it's still a good idea to get comfortable with general dentistry.
You may also be able to get a general dentist you've been shadowing to put in a good word with a specialist in an area you want to shadow in the future. That connection can make a big difference in your future, but you don't have to start out shadowing the top dentist in your area who works in the specialty that interests you. Get in where you can, and focus on working your way up or across at a later time when it comes to shadowing a dental professional and what that practice can teach you.
Find Local Professionals
You don't want to travel for hours to shadow a dentist. If you do that, you may not be able to shadow as frequently or for as many hours. Not only does that put you at a disadvantage, but a dentist may also be more likely to help someone who's in the local area. Whether that's close to your home or close to the school you're attending, you want to seek out someone who's going to be nearby. You can drive or take public transit, but getting to and from your shadowing efforts shouldn't be time-consuming, complicated or unreliable.
You might be concerned that a local dentist wouldn't want to help you because you could be future competition, but that's typically not the case. It's possible you'll be headed to a different area to start your practice, or you'll focus on a specialty. It's also possible that you'll become an associate dentist and not open your own practice, in which case you won't be taking any patients away from current local dentists. Most dental professionals are happy to help someone who's dedicated to their industry.
Reach Out via Phone
When you're looking for a dentist who will let you shadow them, don't send an email that's going to get lost in the shuffle. You also shouldn't text, or send a fax or a letter. Faxes aren't used that much anymore, and texts are generally seen as very informal. A hand-written (or computer-printed) letter could seem like the way to go, but it might be more than is necessary. It's also one more thing that a busy dentist would have to stop and read, along with taking the time to respond.
A good way to reach out and ask about shadowing a dentist is to simply call them. The likelihood of them calling you back, or giving information to the receptionist so they can call you back with an answer, is relatively high. The receptionist may even already know whether the dentist is willing to let someone shadow them or not, or if they already have someone doing that and aren't available to others. By being polite and direct, and asking the right questions, you can get the answers you're looking for and move on so you don't waste your time or theirs. Then you'll be able to focus on your next steps.
Coordinate with Your School
You might need to get your school involved. In an area of the country where there's a lot of dental students all trying to shadow local dentists, calling around can get frustrating. But don't be afraid to reach out to your school and ask for their help, support, and guidance on the issue. That's part of what they're there for, and they may be able to set you up with a dentist you can shadow through a program they offer or someone they know. It's worth asking, and you don't have anything to lose by trying.
Don't Give Up on Your Dental Career Plans
By reading our dental specialties blog, you can get a better idea of the kind of dentist you might want to shadow. Even if you don't get to do that right away, focusing on that and working toward it can help. You may also be able to narrow down your specialty of choice by shadowing a particular kind of dentist to see if what they do feels right for your future career. Shadowing can make a big difference, and can be a very important part of moving forward with your dentistry goals.
Treloar & Heisel and Treloar & Heisel Property and Casualty are divisions of Treloar & Heisel, LLC.
Insurance products are offered through Treloar & Heisel, LLC.
Treloar & Heisel, LLC. does not offer career advice. This content is intended for general informational purposes only and should not be construed as advice.
21-090