Download Our Free Ebook and Learn How To Grow Your Dental Patient List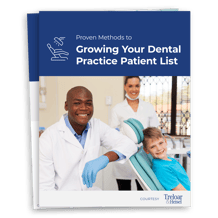 Learning about, and implementing proven strategies of how to grow and create a patient list can be one of the most powerful things you can do to build a successful practice.
Typically, for a dental practice to grow, a single dentist should be seeing 24-50 new patients per month. Are you hitting these numbers?
Here are a few highlights you'll learn from our free Ebook:
How to develop and target your target ideal patient type
How to build your website presence
Why patient reviews are important and how to get more of them
Different ways to earn new patient referrals
Types of community outreach programs and how they can grow your patient list
How to use marketing, promotion and advertising to grow your practice
Fill out the form and we will send you our in-depth guide on how to grow your dental practice.
Connect with Treloar & Heisel