Dental Malpractice & Malpractice Insurance - Arm Yourself With Knowledge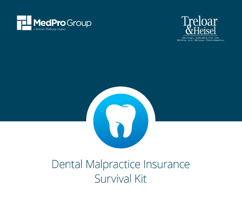 Did you know, each year about 3,900 of your dental colleagues will experience a malpractice lawsuit (Estimated based on the number of reported claims to the NPDB). Arming yourself with the knowledge of how to manage your risk when it comes to malpractice can save you down the road.
This Dental Malpractice Insurance Survival Kit gives you the information you need to help you make an informed decision about malpractice insurance, including a guide to choosing a carrier, instructions on how to obtain insurance, an explanation of policy types and helpful risk management tips.
You Could Gain Valuable Knowledge On:
Understanding Dental Malpractice Insurance
Understanding Policy Types
Tail Coverage
Policy Limits
Patient Compensation Funds
Consent to Settle
Covering Your Practice (Entity Coverage)
Malpractice Claims and Claims Defense
Risk Management
Choosing the Right Malpractice Insurance Company
Malpractice Insurance Glossary
Fill out the form and we will send you our in-depth guide on dental malpractice.
19-044.
Connect with Treloar & Heisel