If you're an owner of a dental practice or thinking about starting one up, you need to make sure you have the proper type of coverage to protect your investment.
That's where business overhead insurance comes in. It's important to understand all the areas this kind of insurance may cover, while also understanding that the potential for coverage doesn't guarantee coverage for all those areas, either for an individual person or dental practice.
Before you choose this kind of insurance, find out what it can provide and why you need it. Then you can make an informed decision about it, along with any other types of insurance you might need for your dental practice.
Since it takes a lot of time and effort to get through dental school and into practice for yourself, making sure your investment is protected for the present and the future may help you to better keep your practice moving forward and enjoy some peace of mind, too.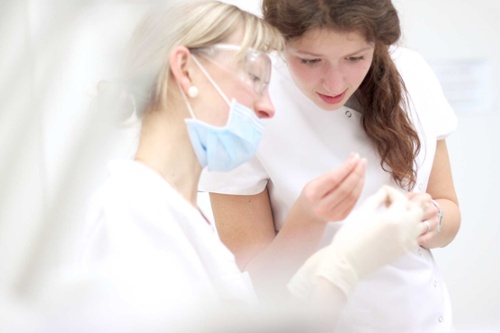 Why Is Business Overhead Expense Insurance Important?
Business overhead expense insurance protects your dental practice's finances in the event you're disabled and unable to perform regular dental work.
If you're the only licensed dentist at your practice, then a single disability has the potential to disrupt your dental practice since you won't be able to do the most important work. But even if you're disabled, your bills will still come due every month — salaries, utilities, rent, equipment financing, property taxes, and legal fees, to name a few.
Business overhead expense insurance provides you with funds to pay those bills on a regular basis so you can focus on recovering instead of worrying about your practice and its expenses. This is in addition to similar policies like disability income insurance, which provides you with a portion of your personal salary to ensure you have a regular source of income while you're recovering as well.
Overall, a business overhead expense insurance policy can provide the assistance you need to keep your practice up and running, even if you're unable to work at it for a specified amount of time.
Summary: Business Overhead Insurance
When a dental professional chooses to purchase business overhead insurance, it comes with the understanding that protection in the event of a disability is the ultimate goal. It's possible for a dentist to lose their practice if they aren't able to keep up with expenses. If that happens, everything they worked for could be gone. Naturally, that's something to be avoided --- and thankfully, there are ways to help keep your dental practice safe from closure due to a disability.
It's not possible to cover everything or protect against every eventuality. That's simply not realistic. But that doesn't mean there isn't any protection, or any way to reduce the chance of harm that could come to a dental practice if things go wrong.
With proper coverage, there are ways you can get important aspects of your practice covered. Business overhead insurance addresses things like staff salaries, utilities, some business insurance premiums, and more. Policies may also include:
Professional dues
Property taxes
Accounting and legal fees
Rent
Interest payments on business premises or equipment
Principal or depreciation of business premises or equipment
That's a lot to cover, but it's one of the biggest reasons why this kind of insurance is so important to dental practitioners. As you take a careful look at the coverage options and think about what you'll need in the future, you may get a better idea of the kind of policy you'd be interested in.
Typically Covered Item: Staff Salaries
Your staff relies on you for prompt, fair payment of their salaries. If there's ever a time when you can't properly pay your staff due to circumstances beyond your control, having a way to cover their salaries could be critical to helping them (and you) get through a difficult time. With overhead insurance for your business, you may be able to continue to pay your staff until there's cash flow again, in order to keep your practice together.
Covered Item: Utilities
The utilities you pay to keep your practice running are vital. If you don't have electricity or running water, for example, you can't operate your dental practice at all. You need to have a climate-controlled environment that's comfortable, and you also need to make sure you're giving your patients and staff fresh, healthy air to breathe to reduce the chance of any of them contracting an illness. But if you aren't able to pay your utilities, you may end up having to shut your practice down.
Covered Item: Rent
Most dental practices don't own the building they're in. Instead, they rent it from another individual or company. Not being able to pay your rent could mean that you're shut down and have to move somewhere else. Depending on the amount you're paying in rent and the other available buildings in the area, getting your practice going again could be extremely difficult. Unfortunately, it could even mean the end of your dental practice entirely. But with business overhead insurance, you may be covered and able to get your rent paid until your situation improves.
Covered Item: Interest Payments on Equipment
The dental equipment in your practice may be partially yours, but the chances are high that some of it is leased or rented, as well. The interest payments you're making on that equipment are important. If you don't make the payments, you could find that you're facing repossession of the equipment you need to keep your practice in business. With an insurance policy that will cover your equipment's interest payments, you can reduce that concern and get back to focusing on your patients and staff, even during times of difficulty for your practice, your industry, or the community as a whole.
Where Should You Get Your Policy?
You'll want to get your business overhead policy from a reputable provider. Our business overhead insurance service page can give you the information you need and help you get started on choosing a policy that works for your practice. You have options, and if you're not sure which of those options may be right for you, there are people who are ready and willing to help you make that decision.
At Treloar & Heisel, we specialize in working with dentists and dental practices. So we know what's important to you and what it takes to keep the doors open so you can continue to provide great care to your patients. Talk to our team about your options today.
Treloar & Heisel and Treloar & Heisel Property and Casualty are divisions of Treloar & Heisel, Inc.
Insurance products are offered through Treloar & Heisel, Inc.
This content is intended for general informational purposes only and should not be construed as advice.
Treloar & Heisel, Inc. and its divisions do not offer tax or legal advice.
21-102