According to the American Teledentistry Organization, teledentistry is the use of interactive audio, imaging, electronic information, data and video communications to provide and support the transfer of dental education, information, diagnosis and dental care delivery.
It's a shift that couldn't have come at a better or more necessary time. But should your dental office consider using teledentistry? Here's a look at both sides of the debate: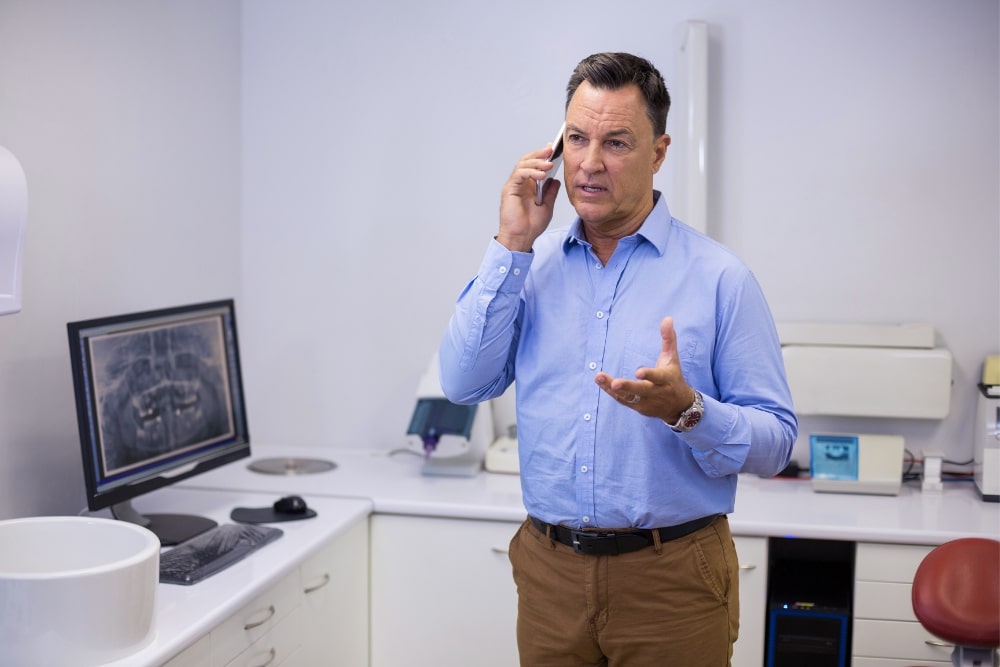 There is Some Form of Patient Demand
The word "tele" means distant. Therefore, the art of practicing teledentistry is basically practicing dentistry from a distance.
This type of dentistry was first implemented in 1994 as a way to serve the United States military when they were stationed all over the world. Today, the implementation of teledentistry in our uncertain times makes sense as a way to promote patients' and dental professionals' safety.
It Might Not be an Approved Service
Not every state is allowing teledentistry in terms of insurance reimbursement. Therefore, in some states, even if patient demand is there and dental professionals are willing to cooperate, it simply isn't a feasible option due to the lack of insurance coverage.
Can be a Good Way to Get a New Patient
If someone is hesitant to come into your office for care, for whatever reason, teledentistry can be a positive tool to utilize. Of course, the patient must be willing to pay the fee out-of-pocket for the teledentistry consultation and then come in for the actual dental work.
Here are a few other benefits as noted by the American Teledentistry Organization:
Improves dental hygiene of patients who have let their oral health go due to the inconvenience of dental office visits.
It can be more affordable than traditional in-office dentistry.
It's an innovative solution that is used by other forms of healthcare.
It can enhance patient satisfaction by offering email, video or text instead of in-person visits.
It can give patients who live in rural areas access to dental care.
It can reduce the amount of time a dental visit takes.
It's a growing field of service that is just now being implemented in earnest.
It Requires Appropriate Technology
Obviously, your practice won't be able to offer teledentistry services if you have inadequate technology in place. You need fast internet service, quality cameras and more, to be able to truly provide great care via teledentistry.
You Should Always Review American Dental Association Guidelines
Above all else, as a dental practice owner, you might review the American Dental Association Guidelines for safe teledentistry practice in today's unique environment. This means you can use the following as outlined by the ADA to care for your patients:
Live video
This gives you the ability to interact in a two-way manner, between you the dentist and the patient using audiovisual telecommunications technology. This is referred to as synchronous.
Store and Forward
This element of teledentistry, also called asynchronous communication, is the transmission of information and health records through secured electronic communications systems. Information like video, radiographs, photographs and digital impressions are all included. This is all information gathered for the purpose of a live, real-time interaction.
Remote Patient Monitoring (RPM)
This is when a dental professional or medical professional gathers personal data pertaining to the patient to use in a different location for support care.
Mobile health (mHealth)
This is using mobile communications like tablet computers, cell phones, and personal digital assistants to communicate with patients.
No one can determine if you should or should not embrace teledentistry. As outlined above, there are notable potential benefits but some drawbacks. Obviously, as a dentist, you can't possibly provide all your services via teledentistry. There is no way to clean a patient's teeth or fill a cavity via a video chat.
However, this technology can help you reach new patients, and can allow you to complete the consultation part of a visit without risking in-person contact. Of course, if your practice is located in a state where this type of visit is not covered or you simply don't have the technology to support it, the option might simply not be a feasible one for you.
Either way, it's an interesting aspect of the ever-evolving dental industry to consider.
Teledentistry: One Way to Grow Your Practice
Teledentistry is just one method you can use to seek to grow your dental practice and acquire new patients.
For more ideas and opportunities, download your free copy of our guide about growing your dental patient list.
Treloar & Heisel and Treloar & Heisel Property and Casualty are divisions of Treloar & Heisel, Inc.
Insurance products are offered through Treloar & Heisel, Inc.
This content is intended for general informational purposes only and should not be construed as advice. Treloar & Heisel, Inc. does not offer practice management or dentistry advice. Please consult with a professional concerning these topics.
20-173