Whether you've just established your practice or are seeking to make the most of your current space, there may be ways to maximize both the office and clinical space in your dental practice. From routinely bumping into objects, to narrowly avoiding collisions with colleagues in the hallway, some simple strategies may help you to make the most out of your space.
Idea #1: Identifying Time-Wasting Tasks
Consider spending a day, or even a week, tracking how much time you and your colleagues spend on tasks that could be done more efficiently. Whether it's looking for paperwork or searching for a piece of equipment that may be used in more than one location, consider making a note of how much time you devote to those quests. At the end of a few days or a week, discuss your findings with your staff, giving everyone the opportunity to share their own tallies.
You may be able to collectively brainstorm solutions— is it possible to reorganize your files? Can you ask everyone to be more diligent about returning a piece of equipment to a central location? You might want to check in again with everyone after a week or two of adjusting to the changes to see what's worked well and what hasn't. Then, you may be able to make additional changes as needed.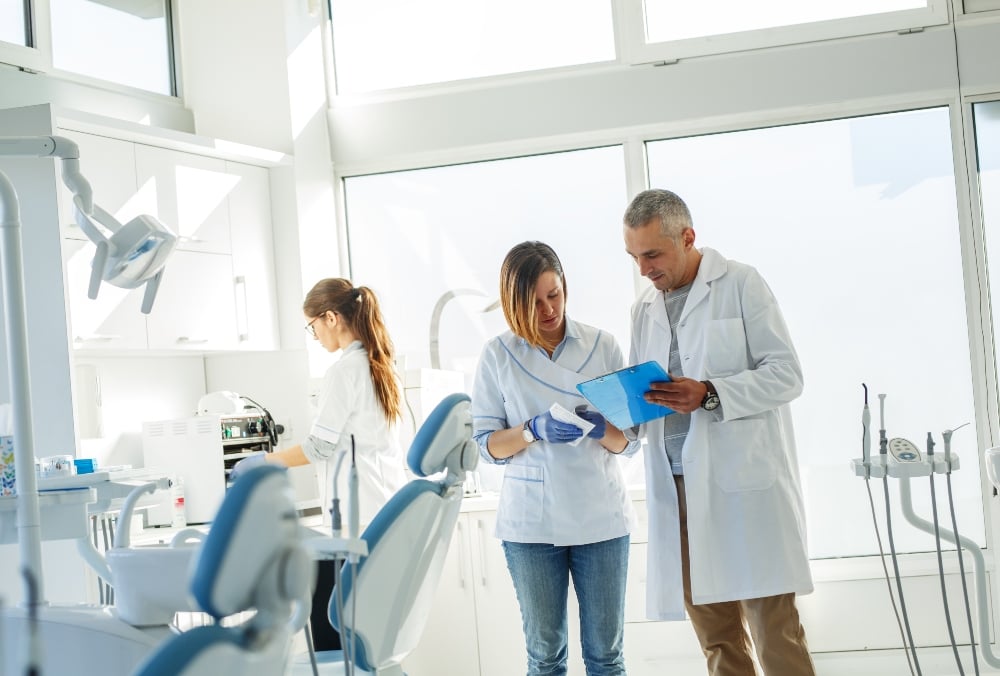 Idea #2: Organization
You might discover that you spend a lot of time hunting for important items and paperwork. Consider creating a centralized system for storing essentials— for you or your staff— to create a single place for everything you need for a specific task. You may also want to utilize mobile shelving units for files that may be pushed together and moved out of the way when not needed, potentially creating more space for your office staff.
Idea #3: Open Bays vs. Private Operatories
If you should find that you do not have the room for individual operatories, one potential solution may be to create an open bay. You may be able to use half-walls for privacy. You may then have room for more patient chairs without necessarily using all of the extra space that individual rooms typically would require.
Generally speaking, specialists such as orthodontists may use open bays more frequently than non-specialists, who may more often choose to use private operatories.
Idea #4: Cleanliness
In a small space, it may be easy for clutter to build up, especially if you're a busy practice and staff. Clutter may reduce efficiency, create the potential for injury or fire hazards and inadvertently give your patients the impression that you and your staff are disorganized.
Consider taking the time to figure out what supplies and equipment you need your clinical areas stocked with (and how much of each) on a daily, weekly, or longer basis. You may be able to organize the items accordingly, ridding the room of everything beyond the essentials and creating a more streamlined space.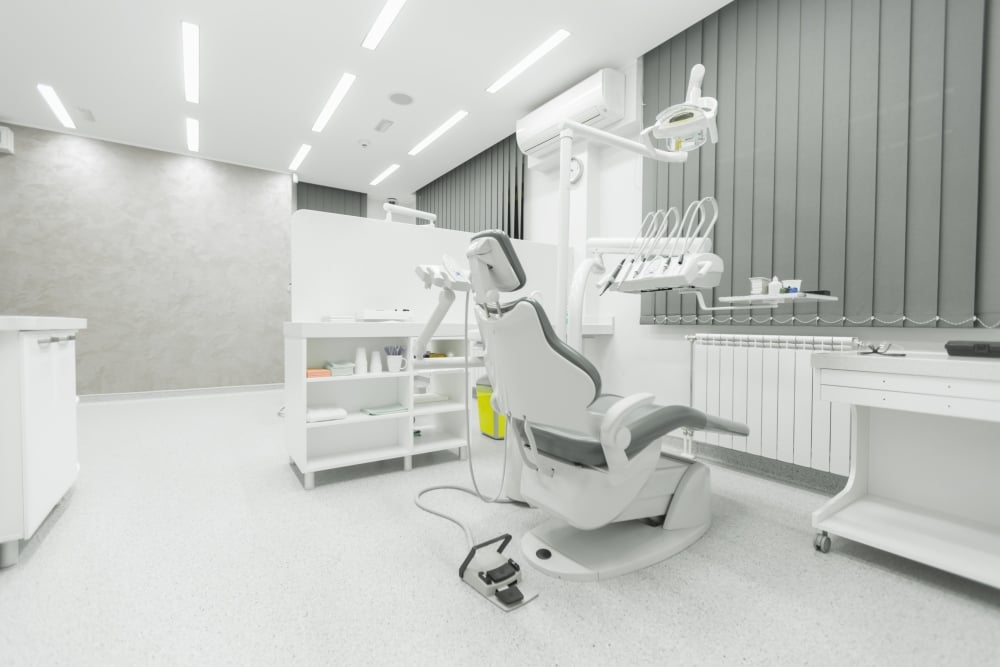 You may also find that it's more difficult for patients to relax in a cluttered space. A visit to the dentist may already be a cause of anxiety for some patients. Clutter may be working against your efforts to make patients to feel welcomed and at ease.
Consider keeping your waiting area and procedure areas clutter-free and organized daily, with more thorough cleanings implemented as needed.
Idea #5: Make Your Space More Airy and Maneuverable
Consider seeking out dental equipment that is light (when possible) and maneuverable. You may be able to store what you don't need daily, freeing up space in your clinical areas. The natural light and fresh air of windows may also add to a feeling of openness in your practice.
Managing Workspace & Personnel Are Crucial to Success
Maximizing your workspace is a great first step in your goal to building a productive, happy, and helpful team.
To learn more about how you can help
About Treloar & Heisel
Treloar & Heisel is a premier financial services provider to dental and medical professionals across the country. We assist thousands of clients from residency to practice and through retirement with a comprehensive suite of financial services, custom-tailored advice, and a strong national network focused on delivering the highest level of service.
Treloar & Heisel and Treloar & Heisel Risk Management are divisions of Treloar & Heisel, LLC.
Insurance products offered through Treloar & Heisel and Treloar & Heisel Risk Management.