Posted by Amy Carbone on Jul 10, 2019 9:30:00 AM
As a dentist with your own practice, you have an opportunity to help anxious patients relax by training your staff, providing amenities and creating a calming environment. Explore a few of the ways you can proactively create a relaxing experience to help ease the fears and anxieties of your patients.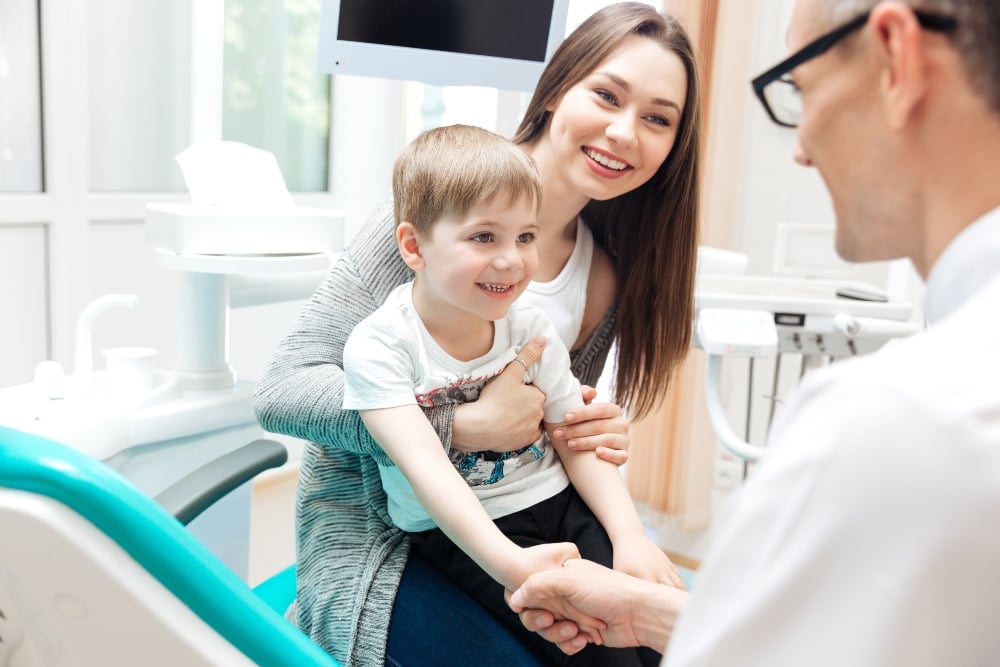 Train Your Team to Spot Anxiety
The first step in helping anxious patients is knowing who needs help. They may not speak up for themselves or even realize help is available. Be proactive and train your team members to identify the signs of nervousness in patients:
Fidgeting
Taking shallow breaths or holding breath
Rigid body posture
Gripping the armrests tightly
Sweating
Excessive blinking
Shaking
Once your team feels comfortable identifying the signs of nervousness, train them in ways to help alleviate anxiety. For example:
Offer the patient time to relax and get comfortable.
Allow them to listen to music on a small portable device, like a phone.
Invite them to ask questions about what you'll be doing, and thoroughly explain each step before you do it. This approach may include showing them each tool and letting them hear the noise each makes.
Train your employees to engage patients in conversation about their anxieties. Sometimes, asking a simple question like, "Do you have any concerns about your dental treatment?" or, "Are you feeling nervous about today's visit?" can help give your patient an opportunity to bring up their anxiety or concerns.
Educate Patients
Educating patients may give them a sense of control over their oral health and in preventing invasive or unpleasant procedures.
Provide patients with brochures or other materials about teeth cleaning and general oral hygiene. Focus on proactive messages about what patients can do to take control of their oral health. Be careful about distributing pamphlets that have pictures of oral diseases and worst-case scenarios.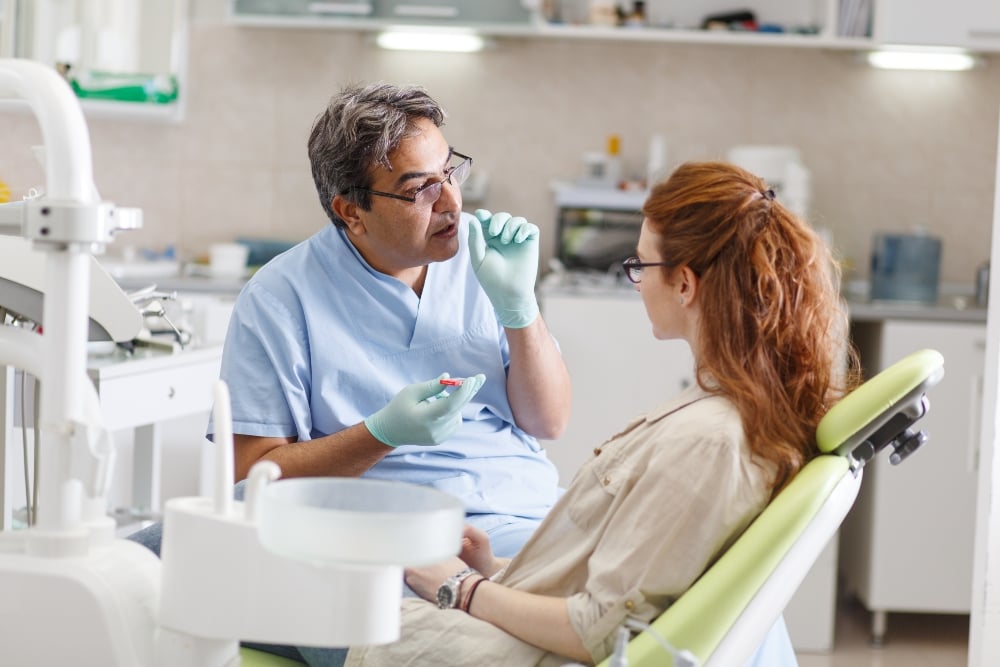 Spend time with patients after each cleaning or procedure, showing them how to brush and floss teeth properly. Consider discussing ways they can take better care of their teeth and prevent invasive or unpleasant procedures, such as those resulting from gingivitis.
Speak Positively and Stay Optimistic
Some patients dislike going to the dentist because they're embarrassed about their oral hygiene or the condition of their teeth. Maintaining a good attitude and speaking positively to patients can help them feel more comfortable.
Speak honestly to patients who have dental problems, but with sensitivity and empathy. Focus on simple, straightforward messages. Show patients that there is hope and that they can have a healthy mouth with the right preventative dental care.
Work with Nervous Patients One-On-One
Work with each patient to develop a plan for managing their anxiety both now and during future appointments. Some patients may request a longer consultation before cleaning begins to answer questions. Others may request periodic breaks during their cleaning, to take time to breathe.
Create a treatment plan to help each patient calm their nerves in a way that's most effective for them. Make a note in the patient's record after a plan is formulated, then review patient records before meeting with them to ensure the plan is followed.
Create a Calming Environment
Paint your dental practice in calming colors and earth tones. Greens and blues are popular because they're perceived as calming and cool choices on walls, for upholstery, and in art.
Make the temperature of each room cool but comfortable, between 68 and 76 degrees Fahrenheit, so patients can feel at ease in the lobby and in the clinical areas.
If you've opted for music instead of television in your waiting area, classical music can be soothing, but avoid pieces in minor chords.
To ensure that your patients find your office as relaxing as you want it to be, distribute paper or digital surveys to patients and read them thoroughly. Take their suggestions seriously, especially when multiple patients recommend the same changes.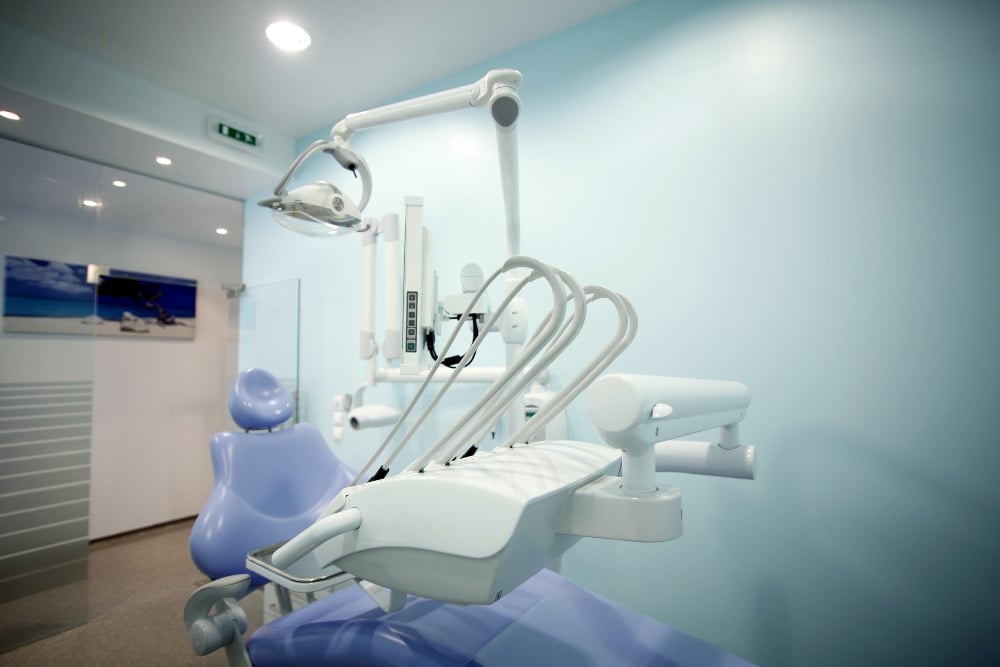 Provide Amenities
Provide your patients with amenities that will make their experience more pleasant overall.
A television over the treatment chair, for example, gives your patients something to focus on when they're staring at the ceiling. Turn on subtitles and keep the volume down, to prevent distractions that might disrupt your work environment. Even more modern and versatile options are personal tablets and a streaming service.
Other amenity options include a sound system in the treatment rooms to play calming nature sounds or the music of the patient's choosing. Toys and games in the lobby, as well as stuffed animals in clinical areas, may also help to calm the fears of children anxious about visiting the dentist.
Get Started Today
Whether you're aware of it or not, your patients may be struggling with anxiety, leading to unpleasant experiences and postponed appointments. Consider making changes and decisions that will help to create a better, more soothing environment for your patients. Then, proactively promote those amenities and actions in your marketing.
About Treloar & Heisel
Treloar & Heisel is a premier financial services provider to dental and medical professionals across the country. We assist thousands of clients from residency to practice and through retirement with a comprehensive suite of financial services, custom-tailored advice, and a strong national network focused on delivering the highest level of service.
Treloar & Heisel and Treloar & Heisel Risk Management are divisions of Treloar & Heisel, LLC.
Insurance products offered through Treloar & Heisel and Treloar & Heisel Risk Management.