Posted by Amy Carbone on Jul 12, 2019 9:30:00 AM
Employee engagement and motivation is often an important part of a successful dental practice. As the owner of a dental practice, you have the most power to affect employee engagement. Explore ways to help your employees stay motivated and engaged through your actions, the way you communicate and your working environment.
1. Communicate
Communicate with your employees well and often. Consider sending out regular email communications, using instant messages or having regular meetings. Keep them up to date on information that can help them do their jobs and feel informed.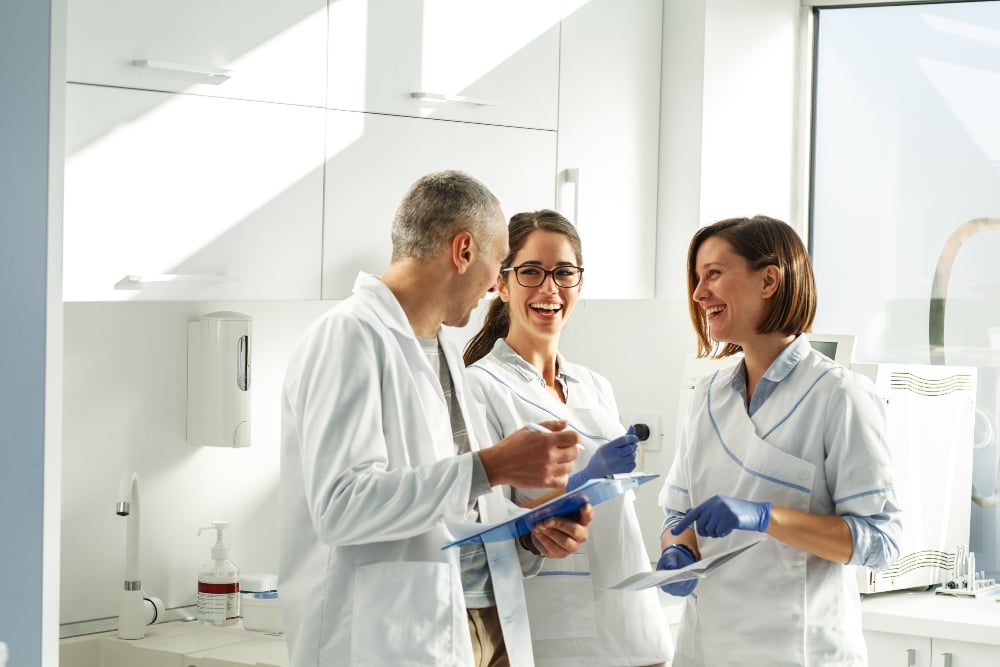 Examples of topics that you might discuss could include:
New equipment
Best practices
Changes in office or procedure policy
Problems and potential solutions
Staffing changes
Holiday schedules
Industry advances
Any changes you're considering and would like feedback about
Discussions like these not only help to foster a sense of inclusion, they may also give your employees the opportunity to speak up and share their own perspective or experiences.
2. Listen
When your employees talk to you, whether they're suggesting a solution to a problem, talking to you about a workplace issue, or even just discussing their personal life, listen to what they have to say. Show them you're engaged by asking questions, making insights, and bringing up what they've said in previous conversations (when it's appropriate). When you listen to your employees, you'll make them feel more appreciated.
3. Focus on Training and Growth
Everyone should have the opportunity to grow and learn. You can help make this happen by focusing on employee training, continued education, advancement opportunities, performance improvement, and individual job growth:
Hold annual reviews to discuss performance.
Help your team members set goals to grow and improve.
Identify training opportunities that would enable your employees to learn new skills.
Provide raises and bonuses to employees who perform well.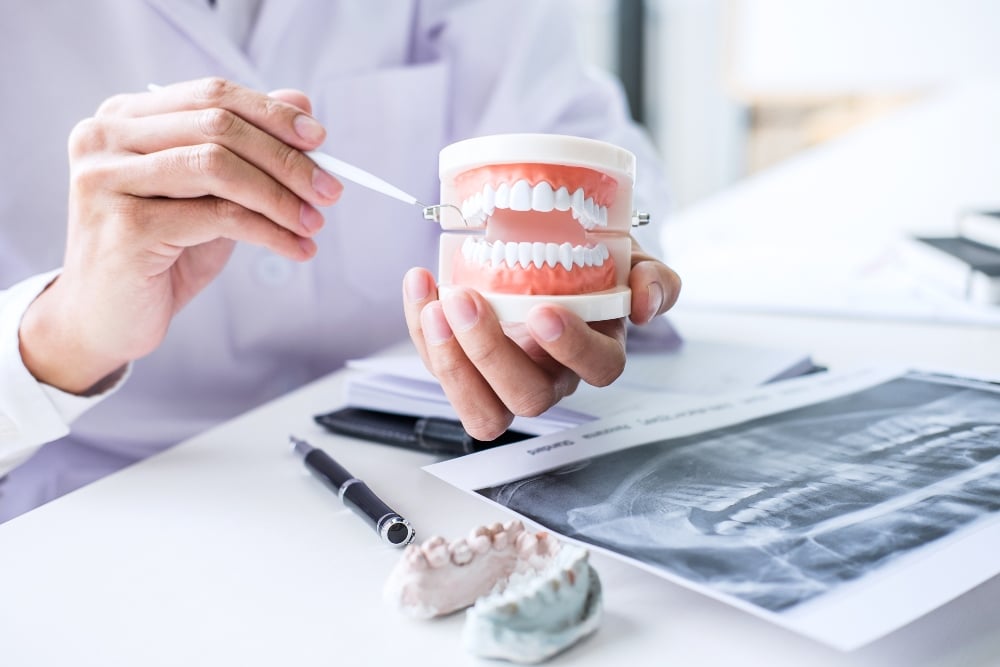 4. Provide Them with Tools to do Their Job
Many employees feel demotivated if they don't have the tools they need to do their job. Evaluate employee technology and supplies on a regular basis. Are their computers old and slow? Is your software or other technology outdated?
Check the supply cabinet as well. Ensure that you're ordering the best available version of what your staff needs and that it's being restocked regularly.
5. Create a Healthy and Pleasant Work Environment
Having a healthy and pleasant work environment can be just as motivating as having the tools to do your job. Create an environment where people will want to work.
Paint the walls in welcoming colors.
Maintain the building and furniture.
Maintain a comfortable temperature between 68 and 76 degrees Fahrenheit.
Maintain parts of your dentist office that are not public-facing, like the employee break room, locker room, and private offices. Give these parts of your practice the same time and attention that you give the public-facing areas by keeping them clean, nicely furnished and cheerfully decorated.
Consider providing water and healthy snacks to your staff.
Encourage your staff to take walks and breaks outside when the weather allows for it.
Provide natural lighting when possible.
Maintain a comfortable outside break area, as well as an internal space, with seating and maintained greenery.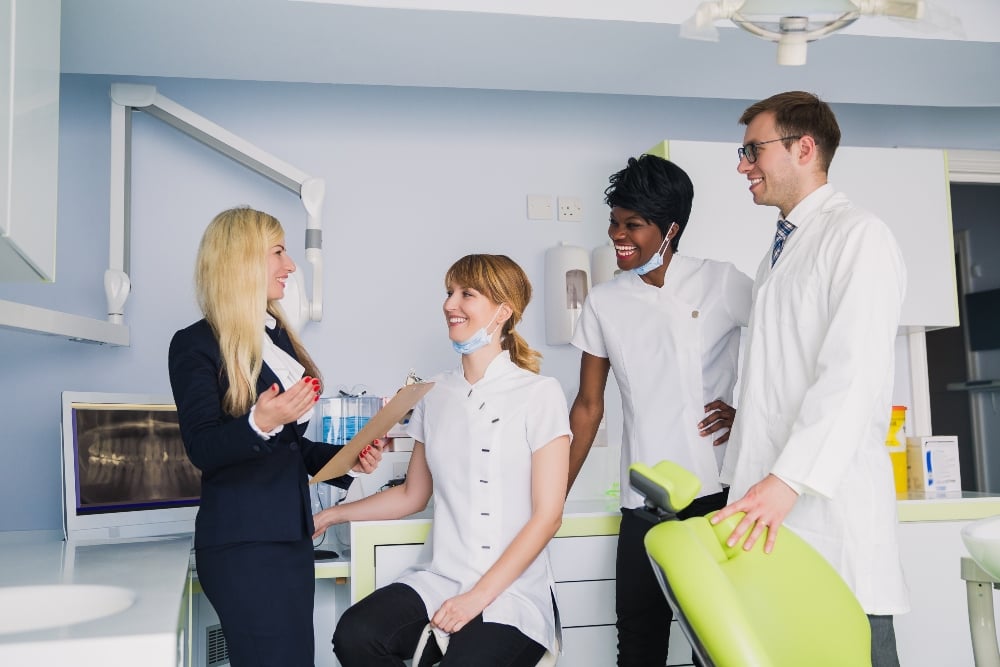 6. Engage in Team-Building
Team-building exercises or spending time outside of work as a group can bring people together, making your team more effective and efficient. Get-to-know-you exercises help people connect with each other, while fun games (like an office scavenger hunt) allow your team to relax and have fun together. Try to engage in team-building exercises, or even a group lunch, on a regular basis.
7. Show Them You Care
There are many things you can do to show your staff that you care about them. Bring in treats like donuts or cookies, celebrate birthdays, surprise them by ordering lunch or throw a holiday party. Choose whatever fits in your budget and seems appropriate for your group, just don't neglect to go out of your way to show them how much you appreciate their work.
8. Recognize Achievements
Recognizing employee achievements, even if you're only giving verbal praise, is a good way to emphasize the important role employees play in your practice. Whether you're praising an employee for devising a new filing system, honoring an employee-of-the-month, or having lunch with employees who went above and beyond the call of duty, find ways to make people excited to do a good job.
Work With Your Employees to Create a Good Workplace
Your employees know what will make them happy better than anyone. Talk to them regularly to find out what else they need to feel motivated at work. Make a plan, and then make it happen. Taking the time to invest in your team could improve overall productivity, employee retention and the success of your practice itself.
About Treloar & Heisel
Treloar & Heisel is a premier financial services provider to dental and medical professionals across the country. We assist thousands of clients from residency to practice and through retirement with a comprehensive suite of financial services, custom-tailored advice, and a strong national network focused on delivering the highest level of service.
Treloar & Heisel and Treloar & Heisel Risk Management are divisions of Treloar & Heisel, LLC.
Insurance products offered through Treloar & Heisel and Treloar & Heisel Risk Management.
Treloar & Heisel, LLC. and its divisions do not offer legal or business consulting advice. Please consult a professional concerning these topics.