Some of the best dentist offices across America do more than just provide superior dental care -- they engage with patients and provide an unforgettable experience.
Here are 7 U.S. dental practices that can inspire you to get creative and do the same with your dental practice.
1. Dental Bar -- Alexandria, Virginia
The Dental Bar in Alexandria, VA takes dental practice aesthetics to an entirely new level. Upon entering, you may not be certain you're in a dental office at all since the vibe is a strong mix of coffee shop and trendy downtown bar.
Dr. Vitaliya Genieva says her idea came while dining at a restaurant in Washington, D.C.
"We should build our dental practice like that," she said. "A place where people can come and kick back, have a refreshment of their choice and be cared for by a staff that puts comfort first. A place where scary white coats are forbidden. A familiar place like the neighborhood bar, only we serve smiles."
Dental Bar proves that a modern aesthetic that looks more familiar to patients can help them feel more comfortable and happy with their choice in dentists.
2. Innovative Dental -- Springfield, Missouri
Many top dental practices meet patients where they are to educate and market to them.
Innovative Dental in Springfield, Missouri does an excellent job of creating engaging Instagram posts that highlight the practice and the team's skills by using rich media like videos and images.
Their website employs a chatbot to instantly reach out to potential patients who land on their site. Finding your way around the site is easy, and key elements like patient testimonials and pricing are prominent so that any visitor can learn important information in moments.
Innovative Dental is a great example of how embracing modern technology can help a dental practice grow.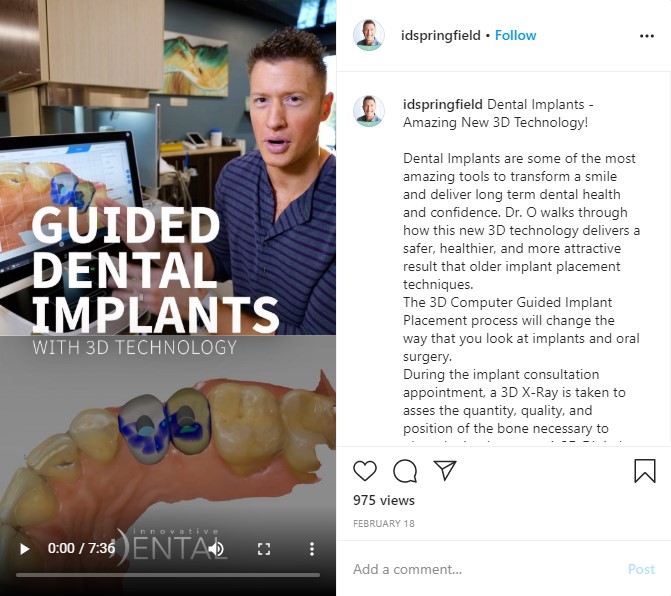 3. Dentistry for Kids -- Wilsonville, Oregon
If there were ever an award for the pediatric dental practice that looks and feels the least like a dentist's office, it would most likely be Dentistry for Kids in Wilsonville, Oregon.
The practice features an area for children with books, toys, and tablets. It also has a separate area for teens with Guitar Hero, classic arcade games, and a distinct "teen hangout" vibe.
The office goes beyond simply offering their patients things to do while they wait -- the entire office was transformed from floor to ceiling with disco balls, a giant bucket of popcorn, a Super Mario statue, and a snack bar.
Dentistry for Kids shows that waiting rooms don't have to be boring areas to pass the time. Instead, they can be destinations or favorite spots of young patients.
4. Atlanta Dental Spa -- Atlanta, Georgia
The Atlanta Dental Spa in Atlanta, Georgia still knows the value of Facebook marketing, especially when it comes to video.
Their profile is full of engaging, exciting videos of patients smiling and dentist reviews of odd, over-the-counter dental products.
Video marketing is quickly becoming one of the most engaging and in-demand types of marketing, and this dental practice has taken full advantage of the way videos can reach out to and educate patients.
Atlanta Dental Spa proves that video can be an incredible asset for dentists, especially when it comes to establishing a brand and engaging an online audience.
5. Croco Orthodontics -- Coralville, Iowa
Croco Orthodontics in Coralville, Iowa takes the comfort of both their patients and staff seriously.
Reclining exam chairs face large, open windows so patients can look outside during their exam and treatment. Ergonomic yoga ball chairs with wheels help staff that sit for the majority of the day get relief from back and neck pain as well as providing full freedom of movement. The office lobby is clean, comfortable, and homey to help patients relax.
Croco Orthodontics isn't doing anything exceptionally different from other orthodontic offices. But they're doing enough — and they're doing it well — that they're making a name for themselves with a sleek, modern, and comfortable feel of their practice.
6. West Road Dental -- Houston, Texas
When it comes to dental marketing for Twitter, West Road Dental in Houston, Texas knows a thing or two.
Consistent posting, actionable tips, vibrant imagery, and relevant hashtags make this account engaging and fun for its followers.
This dental practice also uses Twitter to promote exams, staff birthdays, and hygienic practices the clinic follows, as well as how they approach sedation dentistry to make patients as comfortable as possible during treatments.
West Road Dental proves that Twitter can be a helpful and even recreational experience for dentists looking to try something a little bit different in their marketing strategies.
Raise the Bar for Your Dental Practice with Treloar & Heisel
At Treloar & Heisel, we work hard to support dental professionals with products and services that they need as they pursue creating an award-winning dental practice that continually brings patients in the door and leaves them feeling great about their dental care.
Contact us today for more information about solutions for professionals, including business owner's protection, business overhead insurance, malpractice coverage, and other financial services. We're available now to assist you in pursuing the growth of your practice and your career.
Treloar & Heisel and Treloar & Heisel Property and Casualty are divisions of Treloar & Heisel, LLC.
Insurance products are offered through Treloar & Heisel, LLC.
Treloar & Heisel, LLC. and its divisions do not offer marketing or legal advice. Please consult a professional concerning these topics.