Whether you're opening a new dental practice or upgrading your current software, it's important to compare. Here are 5 top dental software options for practices of all sizes.
1. Curve Dental
Curve Dental may be a good fit for small to midsize dental practices that want a web-based software solution that covers all the bases. Curve Dental provides offices with a comprehensive program that takes care of everything from imaging to patient education to billing and scheduling. Although it doesn't offer as detailed images as image-only software, it's a good option for dental offices who don't want to toggle back and forth between programs.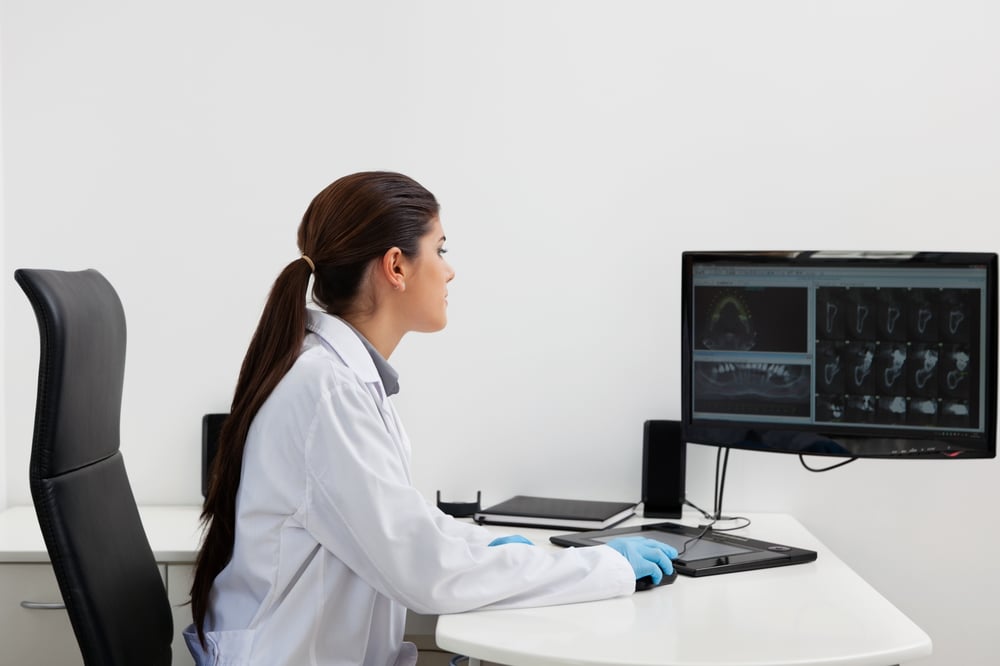 Features
Interactive interface
Web-based control dashboard
Built-in analytics
Custom practice reporting tools
Interactive charts and graphs
HIPAA compliant to protect sensitive patient health information (PHI)
Backup and security
Cost-effective
Winner of the Best in Class for Technology Award by Pride Institute
Mac, Windows, and LINUX compatible
2. ClearDent
Designed specifically for North American dentists, ClearDent is a download-based program. It has a wide variety of capabilities, including the ability to handle imaging, scheduling, and charting. While not as slick as many other dental software interfaces, ClearDent gets the job done for a reasonable price. It's not cloud-based though, which may be an issue for dentists who want to be able to have access to their patient records remotely.
Features
Document management capabilities
Perceptive appointment scheduling
Reminder scheduling
Color-coded appointments
Upcoming appointment tracking
Pre-medication tracking
Send messages directly to patients via the innovative messaging system
Attach images to odontograms
Phone and email support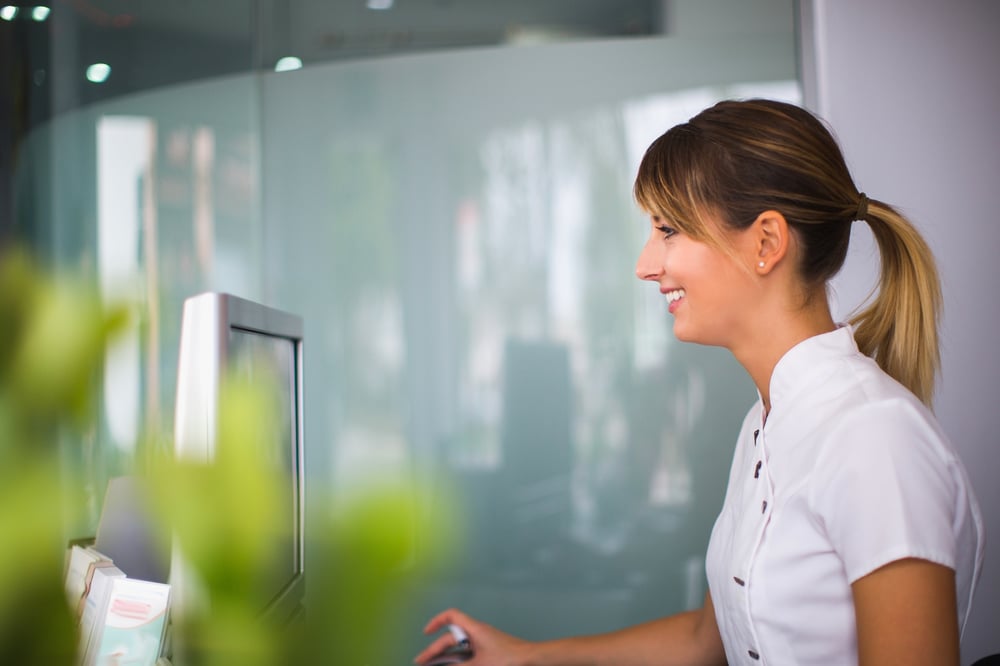 3. SOTA Image
SOTA Image software is a specially designed program that specifically handles dental imaging. It can be used by practices of all sizes and produces incredibly high-quality images for the cost. Because it handles images only, instead of multiple features, it stays in its own lane and does what it was made to do very well. Mac users may want to gravitate towards another program though– SOTA Image is only available for Windows 7 or higher.
Features
Adjust image filters
Easy to use
Reduces the amount of time needed for dental assistant and hygienist training
Cutting edge imaging tools
On-premise based imaging
Intuitive user interface
Easy navigation
Integrates well with existing dental practice software
Find and access patient files quickly
4. tab32
tab32 is another cloud-based dental software solution with a modern interface made to fit today's growing dental offices. Solo practitioners and group practices can use tab32, as well as mobile practices. It can handle imaging, electronic health records (EHR), patient communication, and more. Its easy-to-use, clean interface helps it to stand out from other software with similar functions and likely makes it a great choice for techie dentists.
Features
Offers quick and easy real-time communication with patients
Patient charts
Scheduling capabilities
General ledger
Reporting and financial statements
Document management
Treatment planning capabilities
Handles electronic insurance claims
Online appointments
Post-appointment surveys
Patient reminders and recalls
VoIP telephony
Two-way text messaging
Appointment confirmation
Alert and note features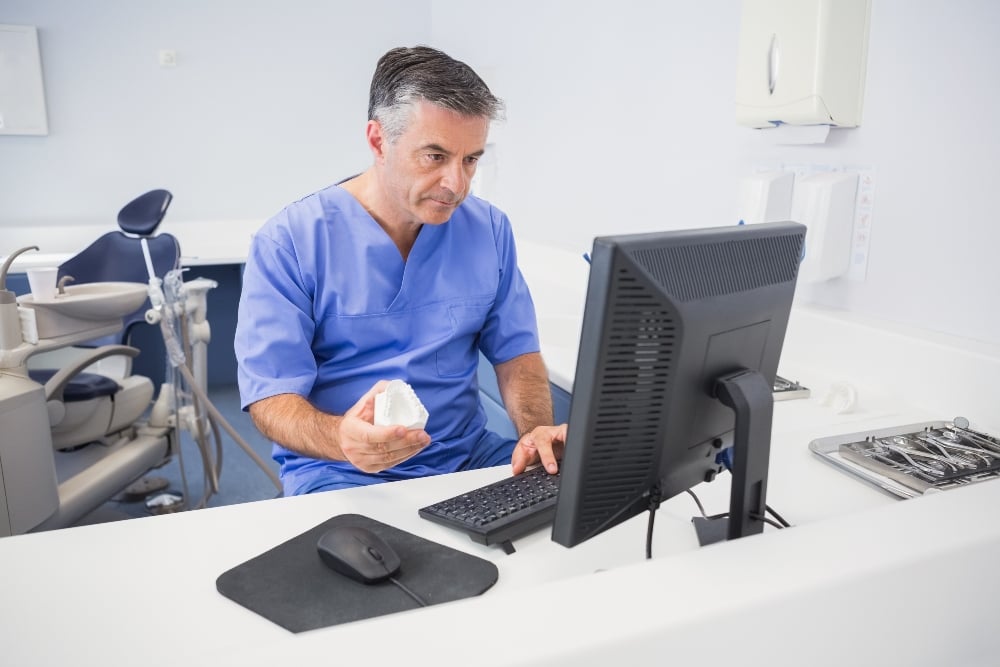 5. Eaglesoft
Eaglesoft is an ONC-ATCB and meaningful-use-certified dental software available for download. It can be used by practices both large and small and offers several great features. While it may lack the ability to process and store images with patient records, it makes up for it with a sophisticated patient scheduling system. Because it offers a robust document manager, it's likely an excellent first choice for dentists who are transitioning from paper records to electronic health records.
Features
Treatment planning module
Provides patients with financial data for various treatments based on insurance coverage
SmartDoc document management system
Accepts digital signatures
Collect digital consent forms
Double booked appointment alerts
Complete appointment scheduling flexibility
Clinical charting capabilities
Billing and accounting applications
Periodontal templates
Choosing New Dental Practice Software? Listen to Your Competitors
If you're choosing new software for your dental practice, consider programs your competitors are using. If you have a competitor that consistently edges you out in a number of new patients and treatment acceptance rates, take a look at what dental practice software they employ. Are they using a sleeker, more modern web-based application? Or do they have a single software that they use instead of one for scheduling and one for imaging?
What software you use has an indirect impact on your overall practice, which can eventually affect your bottom line. Make sure you invest in quality software with a solid reputation in the dental industry.
About Treloar & Heisel
Treloar & Heisel is a premier financial services provider to dental and medical professionals across the country. We assist thousands of clients from residency to practice and through retirement with a comprehensive suite of financial services, custom-tailored advice, and a strong national network focused on delivering the highest level of service.
Treloar & Heisel and Treloar & Heisel Risk Management are divisions of Treloar & Heisel, Inc.
Insurance products are offered through Treloar & Heisel, Inc.
Treloar & Heisel, Inc. and its divisions do not offer information technology or legal advice. Please consult a professional concerning these topics.